The truth is that I love taking notes, rereading them and making lists. I always have things in my head, so some time ago I started to carry hiking logbooks and journals in my backpack. It is true that for quick notes I use mobile applications that range from voice notes to small diaries that allow me to take a photo, add a description and associate a GPS position to it.
When the analytical part of my brain comes into play, the choice of the template and even the design of the template comes to play an important role in the choice of those notebooks. That's when the idea of "if you want something well done, do it yourself" attributed to Napoleon Bonaparte came up, so I started to design my own hiking logbooks.
Which was the first one?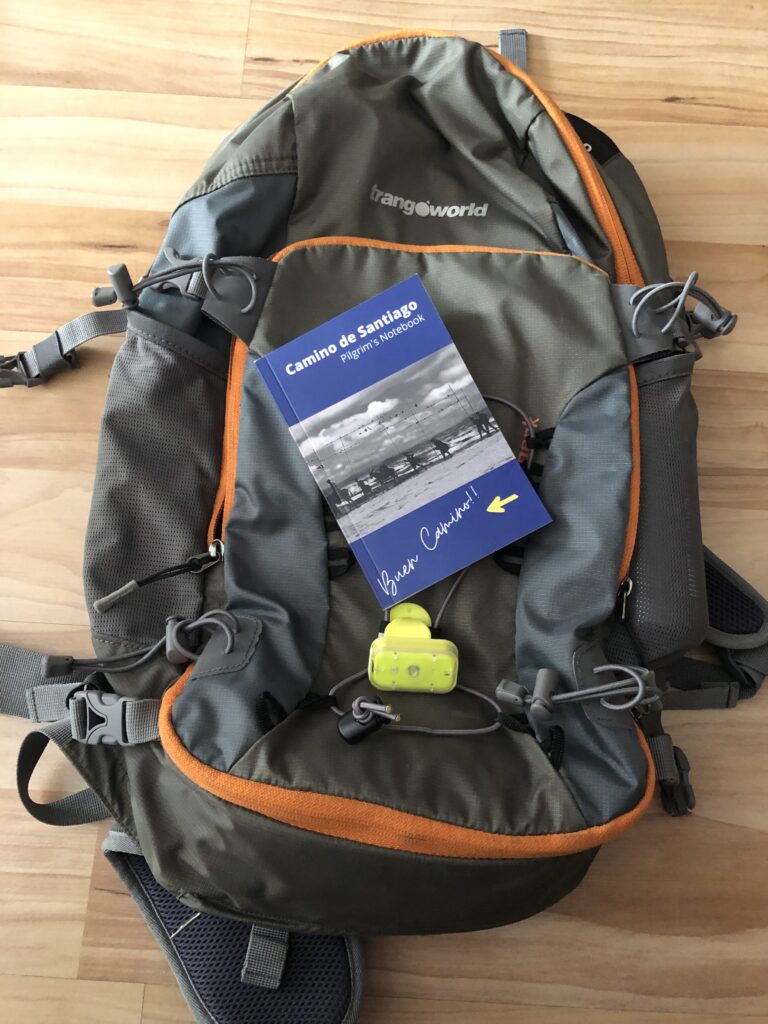 And I started with the Camino de Santiago notebook and uploaded it to Amazon KDP because, to be honest, it was easier to publish it and buy it than to print it myself and not have it "perfect". In addition, I chose the perfect size to protect the credential as well.
Also thinking of myself as a pilgrim, I included a QR code so that I could have the list of hostels at hand depending on the route I was following.
In the photo you can see the size compared to the small summer backpack: it fits anywhere even in the jacket or pants.
What notebooks have I designed so far?
Hiking & Camping Logbook
This is a type of diary to collect information about the routes we have done or want to do. I leave you the info of the two covers that are available for hiking logbooks.
The size is small: 6″ x 9″ so you can carry it in your backpack.
It has 110 pages: double page to collect the info of the route and 4 extra pages to write down all those that we want to do.
These Hiking Logbooks and Journals for mountain climbing and hiking enthusiasts are created on high-quality, durable interior paper. They have a professional exterior with a premium matte finish.
Every page comes with tips to spark your journey and a clean, empty space in which you can write without distractions. The perfect companion for your outdoor trips.
Keeping a journal of all your outdoor adventures can be a great way to remember and share all the memories you've made. Make sure to include: date, weather, location, elevation gain/loss, distance walked, observations, wildlife, etc. Includes a packing list and campsite facilities and access: fees, parking, … even a park or campsite' stamp!
With lots of prompts for journaling, this conveniently sized journal is perfect for hikers. It includes plenty of room for notes and would make a great gift to any outdoor lover! You also have space to gather the trails to walk and the campsites you want to visit. More than 80!
ONE | 3-minute journal
This is a type of guided bullet journal to collect the ideas of the day, a weekly summary and a monthly summary:
Size is 5.5″ x 8.5″.
It has 270 pages, enough for four months.
THE SIMPLEST WAY TO START YOUR DAY EMPOWERED – Gratitude and main objetives.
THE QUICKEST WAT TO RECAP YOUR DAY – main things and how to improve and learn.
THE UNDATED DAILY LAYOUT: A structured format to boost your awareness in 3 minutes a day with thoughtfully designed prompts that include: gratitude, objectives, inspiring quotes and end of day self reflection.
WEEKLY REVIEW: The best of the week, gratitude recap, lessons learned, different ways of doing things and weekly scores for family and friends, achievements and health.
MONTHLY REVIEW: Highlights, overall score to be aware of your progress, successes and on-going objectives, best and no so good moments and next month main goals.
GREAT VALUE: ONE 3-minute Notebook and Journal lasts for 4 months of daily journaling with a full page for your unstructured thoughts and reflections. It also has a weekly and monthly guided review.
Amazon profile
Here is the link to the Amazon profile > Solvitur Ambulando.